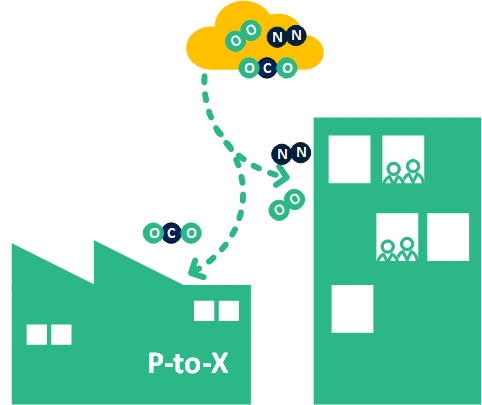 Soletair Power delivers lean-CO2 air to buildings
and CO2 for Power-to-X applications
using a building integrated direct air capture device.
Soletair Power has been awarded 693 k€ development loan by Business Finland for an R&D project Power2People project. The project is part of P2XEnable Co-Innovation project coordinated by Lappeenranta-Lahti University of Technology (LUT) and is under Business Finland's Power-to-X Ecosystem. The ecosystem is geared towards supporting the transition towards a carbon-neutral power system.
Soletair Power's Power2People project aims to further develop the core competencies of the company.
In a carbon-neutral energy system, the use of fossil carbon must be negligible. Instead of mining from the ground, carbon already present in the atmosphere can be captured, refined and used. Soletair Power delivers a building-integrated direct air capture system (BI-DAC) to produce CO2. BI-DAC is connected to the building's HVAC system and delivers lean CO2 air to improve indoor wellbeing and boost people's productivity. Meanwhile, the captured CO2 is combined with hydrogen in a synthesis reactor to create hydrocarbons i.e. fuels. Soletair Powers process is the world's first economically profitable Power-to-X fuel production process.
"Power2People project boosts the company's acceleration towards fast growth in the market", says CEO Petri Laakso.
The project starts this year and will run for two years. Soletair Power will also have active participation in LUT's P2XEnable as part of the steering group.