Welcome
Need a CO2-capture solution?
Our goal is to integrate modular direct air capture systems in buildings and properties and thus capture CO2 directly from the air. The building-HVAC-integrated CO2 capture system, alongside capturing tons of CO2 from the atmosphere, offsets the building's CO2 emissions, reduces the cost of HVAC installation & maintenance, and also benefits the building residents with improved productivity and well-being. Captured CO2 can be transformed into valuable products as a non-fossil-based resource. Whether you're a small company or a large corporation, we're excited to help you on your journey toward carbon capture.
If the world wants to avoid catastrophic climate change, switching to carbon neutrality is not enough. IPCC has warned that limiting global warming to 1.5C by 2100 will require technologies such as direct air capture for large-scale deployment of carbon dioxide removal measures.
Founded in 2016, Soletair Power is a Finnish startup, working in the fields of Direct Air Capture and Power to X. We contribute to global negative emissions by developing technology for capturing CO2 from the air. Our modular carbon capture solutions can easily be installed at building premises or retrofitted with the existing HVAC system. With our patented carbon-capture system installed in offices, building residents will enjoy better decision-making ability, and higher productivity while the building can contribute to reducing global CO2 emissions. Captured CO2 can be reused as a non-fossil-based resource in a wide array of applications. In 2021, together with Wärtsilä, we demonstrated making fuel from thin air at the Expo 2020 Dubai.
Read how buildings contribute.
We activate local generation of energy sources
Sustainably & Profitably.
What We Do
We manufacture modular CO2 capturing solutions that are installable in buildings empowering people to become energy independent while helping to solve problems such as greenhouse gases, global warming and climate change. Our integration provides CO2-lean air for the building residents which improves productivity, health and wellbeing.
Mission
Retrofit buildings worldwide with our VIDAC systems and provide equipment with a total annual capacity of 115,000 tons CO2 by 2026.
Vision
Remaining the largest distributed DAC solution provider and turning buildings into active protectors of environments – indoors and outdoors.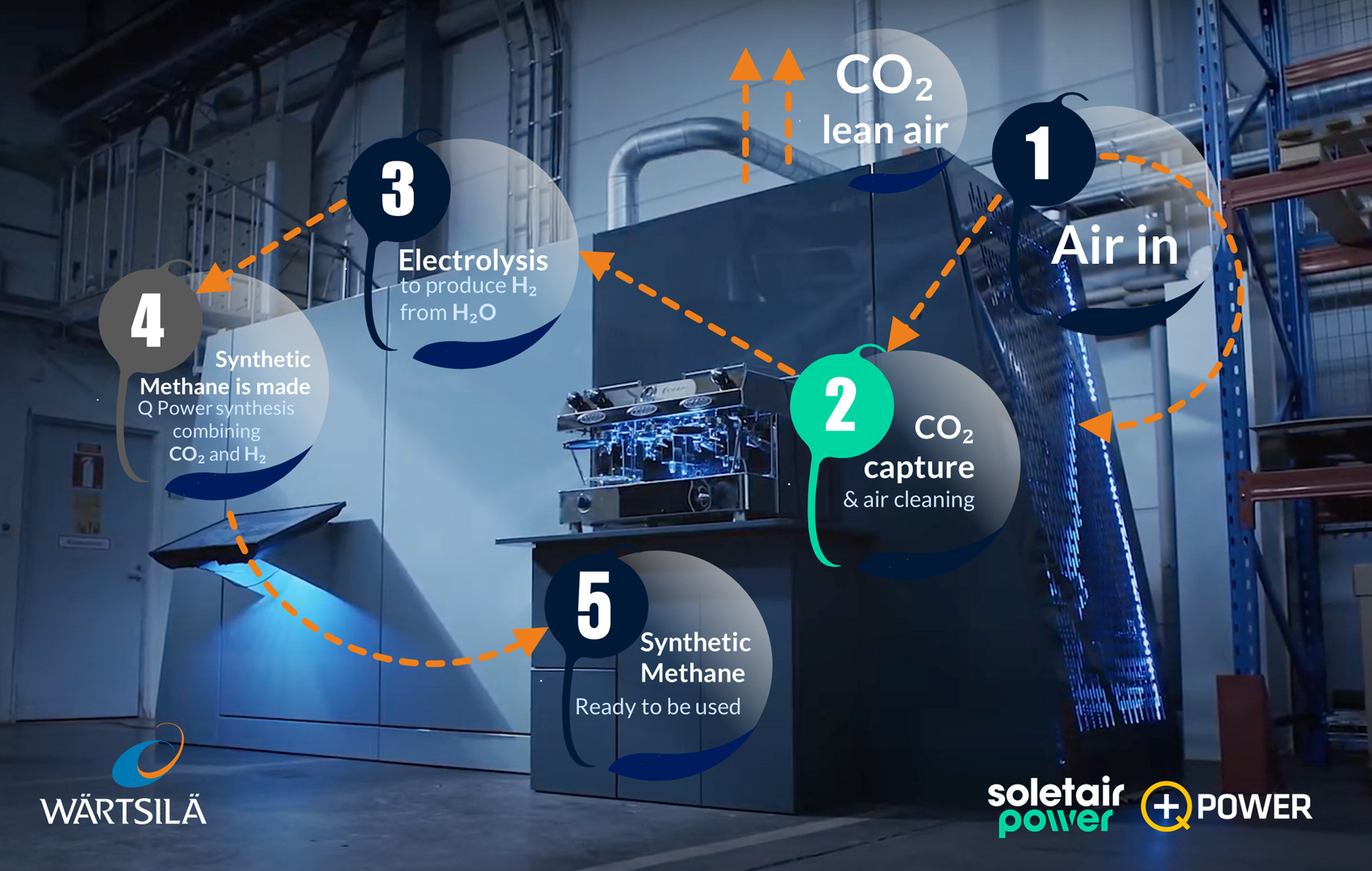 Soletair Power's P2X Demo Unit
— Power-to-X Concept
Decentralized synthesis of hydrocarbon fuels based on CO2
Soletair Power captures carbon utilizing a commercial building's ventilation system, which enhances the well-being and increases the productivity of the employees. The modular solutions operate with a plug-and-play approach, enabling any company to install and use Direct Air Capture. The captured carbon can be reused as a non-fossil-based resource in a wide array of applications, effectively rewinding the impact of CO2.
Milestones
Our Journey and Timeline
Solving global problems through technology.
Company founded by Ari Piispanen and Pasi Vainikka in April 2016.
First pilot unit delivered, meeting with Dubai businessmen, Ari and Pasi refined ideas.
Seed funding received from Wärtsilä. National funding received from ELY. Operations started.
First setups in lab, design phase of the bigger unit started.
Received national funding from Business Finland. Began developing Expo 2020 Dubai Power-to-X Demo Unit and Vaasa STH Building HVAC Connected CO2 capture Unit.
Demonstrated the magic of making fuel from thin air in front of the world with the Power-to-X Demo Unit at EXPO 2020 Dubai. Signed contract with ZBT. Restructured communications.
Started CO2 Capture and Utilization mega project with a TBA company. Headcount reached 17. Delivered containerized Outdoor CO2 Capture Unit to ZBT, Germany.
Today, we're set to retrofit commercial properties worldwide with our ventilation-integrated carbon dioxide-capturing solutions.
Our dream
One day, cities will no longer emit CO2
"It's our unblinking belief that we can turn buildings into CO2 capturing machines — so that one day, cities will no longer emit CO2, but will capture that instead."
– Ari Piispanen, Co-founder, Soletair Power
BUILDING EMISSION REDUCTION
"The DAC technology is a link to close the carbon cycle and to enhance the storage of renewable power, we are happy to install Soletair Power's CO2 capture system and demonstrate the whole variety of power to gas applications on our test field in Duisburg."
Ulrich Gardemann
Group Leader, Methane Technologies, ZBT, Germany
Building future cities
Enables building owners to capture CO2, offset emissions, save energy, minimize cost, and earn credits.
Retrofittable solutions
Irrespective of size, make or age, our technology uniquely fits the building's HVAC systems.
Better productivity for offices
HVAC-DAC coupling ensures productive CO2-lean air for the building dwellers.
Making the planet healthier
Offsets CO2 emissions from the building resulting in a decrease of CO2 from the atmosphere.
Let your building protect the planet