Turning Buildings into Carbon Sinks.
Soletair Power develops modular direct air capture systems that enable companies, corporations and commercial building owners to capture CO2 directly from the air and be a part of the large-scale deployment of carbon dioxide removal measures.
30 June '22 Participating in Climeowrks DAC Summit 2022 in Switzerland27 June '22 Deployed First Outdoor CO2 Capture Plant at Duisburg, Germany13 July '22 Participating in next.industries at Airbus Hangar in Germany27 May '22 Hyneman from Mythbusters visited Soletair PowerFinalist • Nordic Startup Awards • Best Climate Impact StartupAWS Clean Energy Accelerator • Phase 2 • April 2022NVIDIA Inception Cohort • April 2022Carbon Capture Technology Expo 2022 • Stand #356 • 14-15 June 2022 • HoustonFuel from Thin Air • Power-to-X • Expo 2020 Dubai • Oct 1, 2021 – Mar 31, 2022Patent granted for Soletair Power • United States • Dec 07, 2021 • US11192065B2Best in Class • Real Estate Board of New York • NYSERDA • PropTech Challenge 2022Finalist • South Summit 2022Acceleration phase with Casa Do Impacto, Triggers, Portugal • March 2022Freedom To Operate (FTO) completed • Portugal, US, Finland, Germany, Japan, India
Why install CO2 capture systems in buildings?
Continuous increase in atmospheric carbon dioxide is causing the earth's temperature to rise and leading to climate change. Reducing emissions is essential to slow global warming but it's not enough. According to the National Academies of Sciences, Engineering and Medicine, the world must remove 10 gigatons of carbon dioxide per year from the atmosphere to avoid the worst impacts of climate change.

Buildings can be turned into carbon sinks by making them capture and permanently store CO2. Our building-HVAC-integrated CO2 capture system, alongside capturing CO2 from the atmosphere, improves the efficiency of the HVAC system and reduces CO2 in the office air benefiting the building residents with enhanced productivity and well-being.

Our method can capture CO2 from air, produce synthetic hydrocarbons, offset building emissions, and provide healthy air for people.
News
The latest about Soletair Power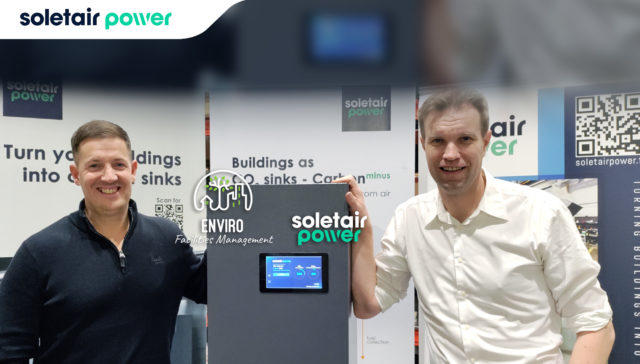 Lappeenranta, Finland – Soletair Power, the Finnish carbon capture company, has announced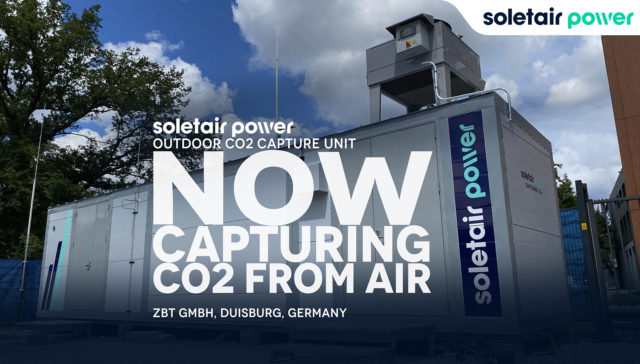 Our Outdoor Direct Air Capture of CO2 Unit is now in operation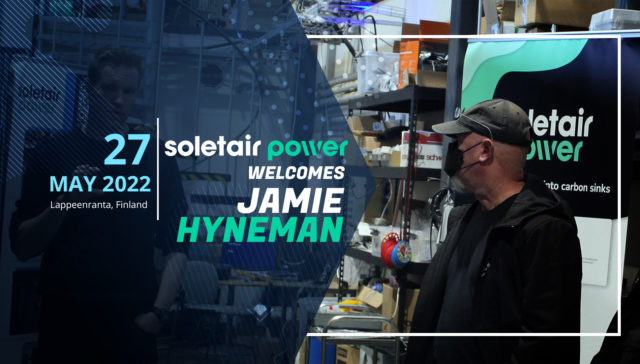 Jamie Hyneman, who co-hosted the popular TV show MythBusters with Adam Savage,

Read all News
Milestones
Finnish Prime Minister Sanna Marin joins Wärtsilä at Soletair Power
2 November 2020
Wärtsilä Corporation
Wärtsilä strengthens its commitment to decarbonization with further investment in Soletair Power
2 March 2021
Wärtsilä Corporation
Expo 2020 Dubai: Soletair Power – the key to clean air inside Finland Pavilion.
28 June 2021
Gulf News