Turning Buildings into Carbon Sinks
.
Soletair Power is pioneering ventilation integrated carbon dioxide capture technology suitable for integration within urban infrastructures. The technology enables buildings to capture CO2 from the air at ambient airflow rates and at a temperature less than 100 °C.
We engineer scalable, modular decarbonization systems that helps industries capture carbon dioxide from the air.
Carbon minus⁻
Run on renewables, captures more CO2 than it emits.
Retrofittable
Easily retrofits with the existing HVAC system.
Air+
Supplies CO2-lean air leading to better indoor air quality.
Permanence
CO2 mineralization enables long-term storage.
Helping buildings decarbonize.
Buildings, responsible for about 40% of global greenhouse gas emissions,
 can be turned into carbon sinks by making them capture CO2.
Soletair Power's patented Building-HVAC-Integrated CO2 Capture Technology is developed for buildings and does not require high temperatures or specific geography. Atmospheric CO2 is captured from the air by utilizing the existing HVAC system. Captured CO2 when mineralized into concrete, returns to another building in the form of concrete blocks, closes the cycle, and creates negative emissions.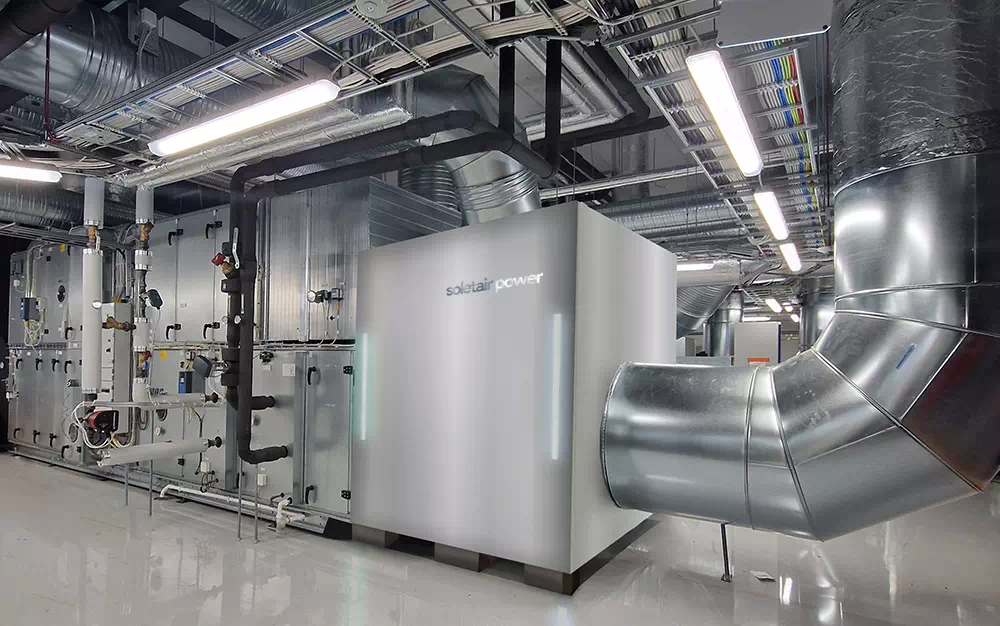 Read more about our technology
Soletair Power HVAC integrated DAC integrations are enabling buildings around the world to capture tons of CO2 from the air everyday.
Soletair Power CO2 capture systems are tailor-made to fit into most HVAC facilities, thanks to the modular design principle we follow.
View our products