Soletair Power had the opportunity last week to present itself in the United States. CEO and co-founder Petri Laakso presented Soletair Power's impressive journey and got to share all the cool stuff the carbon capture technology provider company has been up to. Considering the number of skyscrapers and commercial real estate in New York, Soletair Power showcased the building CO2 capture technology that has been successfully deployed in Germany, Finland, and the UAE. A heartfelt thank you to the Consulate General of Finland in New York and the Finnish American Chamber of Commerce – New York for hosting this amazing event on October 18th, 2023.
We were honored to host inspiring keynote speakers Andreas Deutschmann and the legendary Jaimie Hyneman, former co-host of Mythbusters at the event.

The enthusiasm and encouragement we received from the event participants were truly inspiring. We welcomed guests from Nokia, KPMG, Voyager Ventures, Clean Energy Venture Group, Chardan Capital Markets, Union Square Ventures, InnoVet LLC, Ecosystem Integrity Fund, Energy Impact Partners, RBC Capital Markets, JESCO Venture Labs, HAX, Climate Capital, Draper Associates, Tekfen Ventures, PUNCTUM USA, Westmusa, Inc., Solid Gold Global Labs, Sullivan & Worcester LLP, Anne Wolfson, Africa Investment Consulting, Failup Ventures OyaSync and AID & RES.
The energy and ideas at the event were off the charts!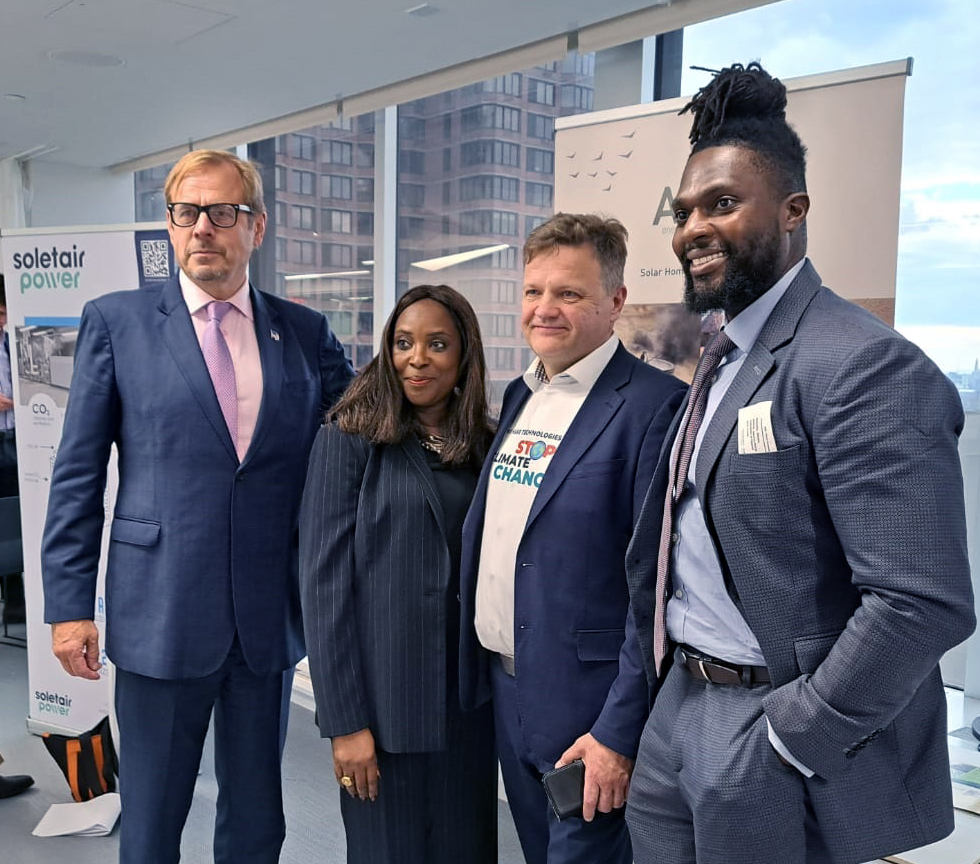 The discussions that took place showed that as environmental benefits and financial profitability have been included in the Soletair Power's technology implementation, to a certain extent, we can say that "the door will be opening anytime soon".
Soletair Power has also participated in the two-day Global Direct Air Capture Conference at Columbia University. It was the first annual Global Direct Air Capture Conference and was organized by Direct Air Capture Coalition, RMI, Breakthrough Energy and Center on Global Energy Policy. Big thanks to Jason Hochman, Erik Funkhouser, Jack Andreasen, Nicholas Moore Eisenberger, Koby Ahmed, Aaron Benjamin, Daniel Pike, Charithea Charalambous for being such a great core organizing team. Following this, we are gearing up for COP28.
Finland and United States have common climate and energy objectives, which offer much potential for collaboration. Global demand for low-carbon solutions is on the increase especially carbon capture technology has been marked as a potential to reaching net negative with the use of renewable energy. Finnish and the US companies can offer sustainable and environmentally friendly solutions to both European and global markets in these regards.
Consulate General of Finland
605 Third Avenue
35th Floor
New York, NY 10158
Phone: +1 (212) 203-0023
Website: https://finlandabroad.fi/web/usa/consulate-general-new-york
Soletair Power
Tuotantokatu 2
53850 Lappeenranta, Finland